New Mobile Technician Website
Work is currently underway on a new mobile website for field technicians. Upon reaching a unit that requires service, the technician will be able to scan a QR code attached to the condenser. The QR code will take them to live data for the unit. From the technician page, the technician can place the unit into and out of Diagnostic Mode (condition readings every 5 seconds), review the previous three hours worth performance data graphically, and view current indoor unit readings without ever entering the home/office. This same data is available on the desktop platform so that a diagnosis can be determined before leaving the office saving valuable time.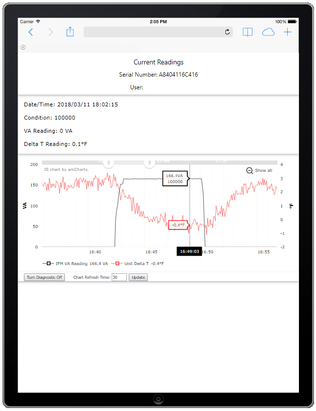 Our Units Aren't Always Acting Like They Should
Even though our air conditioning/heating systems seem to be operating correctly, they may not. They come on when the thermostat says to and then run until the thermostat says to stop. This is correct, right? Well, what is going on during the time that unit is running may sometimes surprise you. On the unit depicted in the chart below, SEERSaver
® detected an issue during the heating cycle of a gas furnace. Placing the unit into Diagnostic Mode allowed more data to be collected to give a full picture of what is really happening. In this case, the indoor fan was starting too long after the furnace started to light causing an excessive amount of heat build up that required the unit to shut off the furnace to protect the homeowner from a fire. What would happen if the over temperature safety device were to fail from being used almost every heating cycle? Without SEERSaver® this issue would have been nearly impossible to find since the unit appeared to operating correctly. Don't you want SEERSaver® protecting your HVAC system?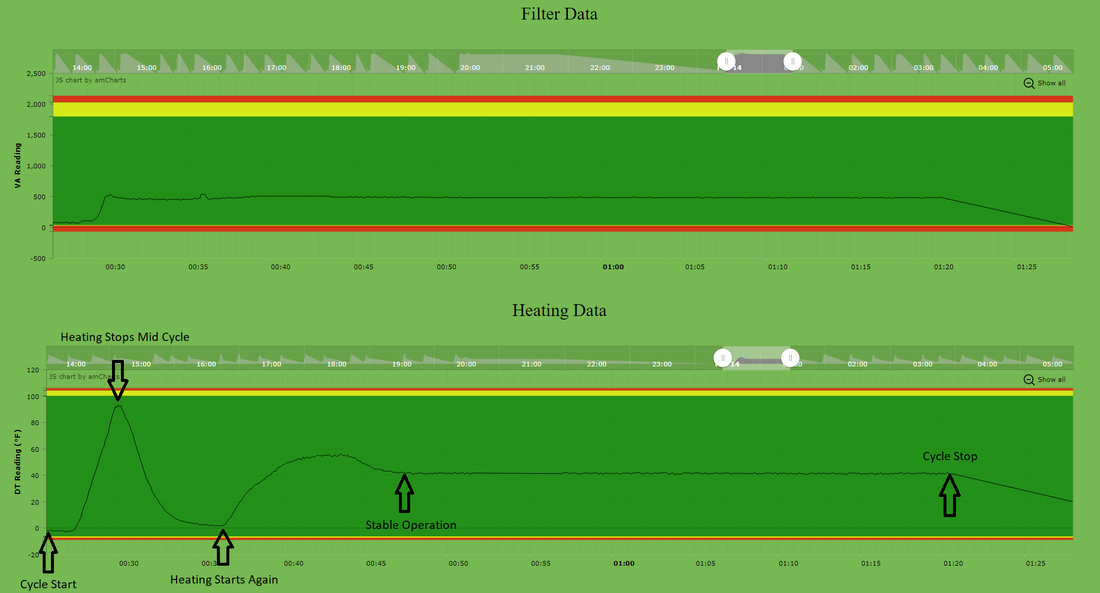 Sometimes We Get Warning Signs
Not all failures within your air conditioning system are single events. Some failures present themselves as early warning signs. Within your air conditioner's condenser, there are two capacitors. One helps start and run the condenser fan and the other does the same for the compressor. Without these capacitors, the unit will not function properly. Over time, the capacitors begin to degrade. This causes them to not be able to either start or sustain the fan or compressor. Their ability to start and run the components can have intermittent failures where the air conditioner loses its ability to cool for short times. If the failure time is small, you will not notice. It is only when the failure is long term or permanent that you notice the issue. SEERSaver® can find these intermittent failures and report them to you. The picture shows data from a short term failure of the condenser fan capacitor. The homeowner never knew that failure occurred. Allowed to continue without repair, this unit would have failed resulting in an emergency repair.

---
First Order of SEERSaver® Delivered
On May 15, 2017, the first 50 SEERSaver® device kits were delivered to our Texas distributor in College Station. The distributor is excited to have the first major shipment and will begin installations around the College Station in the coming weeks.
---
SEERSaver® Receives Patent
On May 9, 2017, the United States Patent Office issued Patent ​9,644,856 to System Performance Technologies LLC for the technology behind SEERSaver®. The SEERSaver® technology is also protected by Patent 6,842,117. This is a major step in the development of SEERSaver® and validates several years of hard work by the SPT team. Watch for an announcement related to the SEERSaver® distribution system in the near future.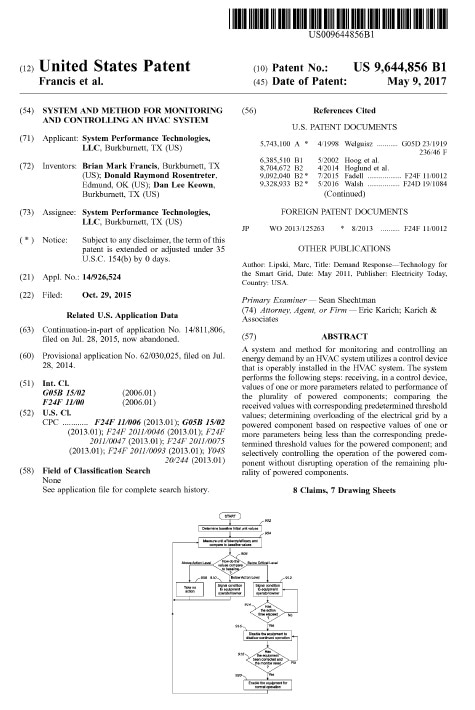 ---
​Hobbies Really Do Affect Your Heating and Cooling System
We don't always consider the effect that the activities in our homes have on the efficiency of our heating and cooling system. We are cognizant of issues with fumes causing health problems, but don't typically consider what happens when dust or fibers are created. Yesterday, one of our test units signaled that the air filter needed to be changed. It is nothing out of the ordinary to get a dirty filter notification, but this one was different. The filter should not have needed to be changed this early. So, what was different? Sewing. Yesterday morning one of the inhabitants of the house had spent several hours sewing. The process of sewing creates small fibers that become airborne and eventually reach our air filter (Red fibers in this case). The end result was an increase in the energy usage of just the indoor unit by 30% in only a few hours! If they had been relying on their thermostat or a calendar to tell them when to change their filter, they would have wasted a lot of energy and money. Why guess when your comfort and money is on the line? With SEERSaver®, you don't have to.
---
System Performance Technologies LLC Announces Kickstarter Campaign for SEERSaver®
BURKBURNETT, Texas-February 7, 2016- System Performance Technologies LLC (www.spt-llc.net) announced today that they will begin a
Kickstarter campaign
for their flagship SEERSaver® (Patent Pending) product on February 22, 2016. SEERSaver® revolutionizes the way that air conditioning and heating systems are serviced by continually monitoring system performance. SEERSaver® saves home and business owners on their heating and cooling energy and system repair expenses.
"SEERSaver® represents that biggest innovation in the servicing and maintenance of air conditioning and heating systems since the development of the modern air conditioner by Willis Carrier over one hundred years ago" said Brian Francis, President of System Performance Technologies LLC. "By utilizing a small computer device and your wired or wireless network, SEERSaver® is able to continually watch how an air conditioning or heating system is operating and alert the owner or their service contractor whenever the system's efficiency degrades and requires attention."
Research has shown that around 65% of heating and air conditioning systems are operating improperly. This is due to several factors including how well the installation was performed and how well the building/home owner performs routine maintenance such as changing the air filter. Improper operation can result in annual energy cost increases of $400 or more. Also, improper operation places additional strain on the system components resulting in more frequent break downs and decreased service life.
The United States Department of Energy estimates that 6% of electricity produced is used for heating and cooling systems. This accounts for approximately $11 billion in annual electricity costs to consumers.
Traditionally, maintenance of air conditioning and heating systems is performed based on the number of days of operation for air filters and twice per year for other components. Most filter manufacturers recommend changing the filter every 30 to 90 days based on the type of filter. Most service providers recommend having your system professionally serviced twice per year. These times are guesses based on averages and overall experience. "This type of maintenance system works great for the filter manufacturers and service contractors, but doesn't necessarily give the home or business owner what they need" said Francis. "Your air filter may only last a few weeks or it may last six months. There are just too many factors that determine filter life to just mark the calendar and hope that everything is OK."
SEERSaver® removes the guessing by basing maintenance intervals on the actual performance of the heating or air conditioning system. Because of the way that SEERSaver® works, system failures can also be predicted giving the ability to plan service versus reacting to a failure. "Saving money in this economy is key" said Francis. "Finding that your air conditioner has broken down when you return home from work is not only inconvenient, it costs more to fix. Contractors charge extra fees for overtime and weekends and parts supply houses charge large fees if they need to open back up after hours so that your contractor can buy parts. This equates to more cost to the home owner and added frustration."
​
System Performance Technologies LLC is utilizing Kickstarter to introduce the market to SEERSaver® as well as help with the costs of development. "Bringing high tech products to the market is costly for a small business" explained Francis. "Kickstarter has been a great outlet for the introduction and funding of many projects and products." Currently, the Kickstarter campaign is set to launch on Monday, February 22, 2016, at 9:00 am CST and will continue for 30 days. "We are excited about being ready to begin this campaign. There has been a lot of hard work completed to get to this point. We really look forward to being able to get SEERSaver® into the marketplace." Updates to the campaign are available on the System Performance Technologies LLC website.
---
SEERSaver
®
Presented at CATEE 2015
On December 2, 2015, Dan Keown and Don Rosentreter of System Performance Technologies LLC presented SEERSaver
®
during the Clean Air Through Energy Efficiency (CATEE) Utility Speed Dating program. According to the CATEE website, "The Clean Air Through Energy Efficiency (CATEE) Conference is a premiere educational conference and business exhibition connecting public and private decision makers and thought leaders. Its purpose is to help communities improve decisions that determine the energy and water intensity of the built environment, learn from examples and seek alternative renewable energy sources – and reduce related emissions." During the competition, seven companies presented a three minute presentation highlighting their premier products/services to a panel of industry professionals. The presentation was followed up by a question and answer session. The top three presentations were then chosen to present during the December 3, 2015, Utility Shark Tank Competition. Happily, SEERSaver
®
was very well received and continued into the Utility Shark Tank Competition where many great comments were given and many great contacts were made. Our congratulations go out to the 2015 Utility Shark Tank Winner,
enVerid
,
who presented their groundbreaking HLR technology.